/photo view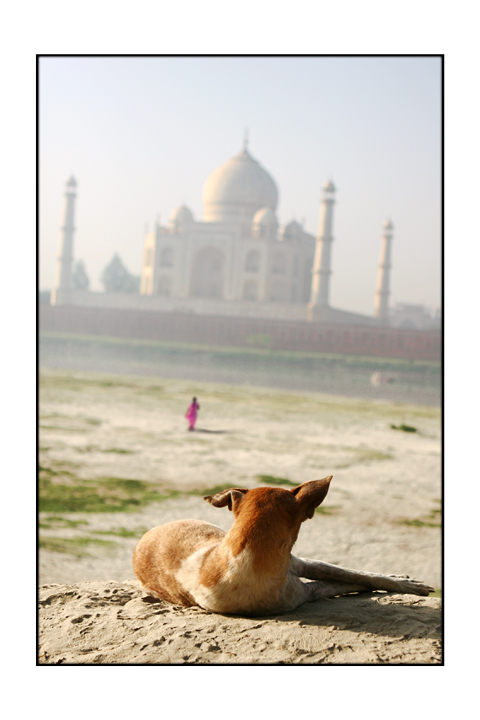 - doggyTaj -
© Arnaud DE

(07-11-2007)

<

Agra

<

India

<

Asia

PHOTO DESCRIPTION

Nice to post my first picture on photoholik
in early morning behind the Taj Mahal
like a long film

| | |
| --- | --- |
| APN | CANON - Canon EOS 20D |
| Registred camera | CANON Canon EOS 20D with CANON EF 24-70mm f/2.8L USM (Reflex camera) |
| EXIF information | f:2.8 - 1/8000 - 400 ISO (no flash) |
| Orignal filename | in1.jpg |
comments
02/16/2008
Bonjour arnaud
Une image un peu décalée du célèbre Taj Mahal, on s'attend à voir une foule bigarrée, mais là, ta composition épurée est surprenante.
Un chien fainéant, un silhouette colorée, le taj Mahal à l'horizon, et une gestion de la profondeur de champ originale, le tout dans une photo en biais; bien vu.
bravo!
Jacques

11/29/2007
I really like the tilt and the foreground here Arnaud. Very beautiful quality shot. The human in the distance acts as the focal point for the dog's eyes. Very beautiful.
11/11/2007
Tiens même le chien est à l'heure pour contempler le Taj, a moins que celà ne soit qu'un mirage, confondre le Taj avec un nonos il n'a que 2 pas ;o)...
Arrivera t il avant la dame en sari ? suite au prochain.......
Une photo marrant et jolie à la fois, une compo comme je les aime.
11/07/2007
Hello Nono

good shot I really like this symetrie and the 3 step of he picture with the beautiful taj mahal in the background but what is the most important here is the woman, the dog give us the direction to follow...
it is funny beacuse I used dogs a lot in my indian pictures there were everywhere and sometimes gave good balance.
Well done,
looking forward to follow the " Indian Time" Project.

Bubulle.
11/07/2007
Is the dog looking at the woman or at the Taj Mahal ? Good compo but the horizon (not straight) is a bit strange to me.

11/07/2007
i am happy to see this picture
something finished with a dog pics
and start with another dog pics hehe.
I like this woman in pink, and for sure a diffrent pics from the Taj.
I do like this pastel color and soft light.
Seem this dog is waiting for her, maybe she have some food in her bag ;o)

••fly••

11/07/2007
Brilliant POV, Arnaud, at once diminishing brilliantly the famous Taj and yet giving it a new splendor through the eyes of...a dog. One of the most original views of the famous ice cream cone...ever. A+ Francis
11/07/2007
First time you wake up you feel a bit dizzy! Do I really want to get up? Nope! And then you end up having a tilt!... the mistress in pink sari has gone to the river, so i can still rest a few more minutes, can't I?
Having gone through what goes inside this dog's mind, I must say that I really like this new vision you gives us on the Taj! Quite an unusual one! I can remember one shot from Claude who has joined us now, from this side of the river and it had open q whole new perspective to me on the Taj! Alors Bravo! and welcome for this first photoholik post!!
Eric