/photo view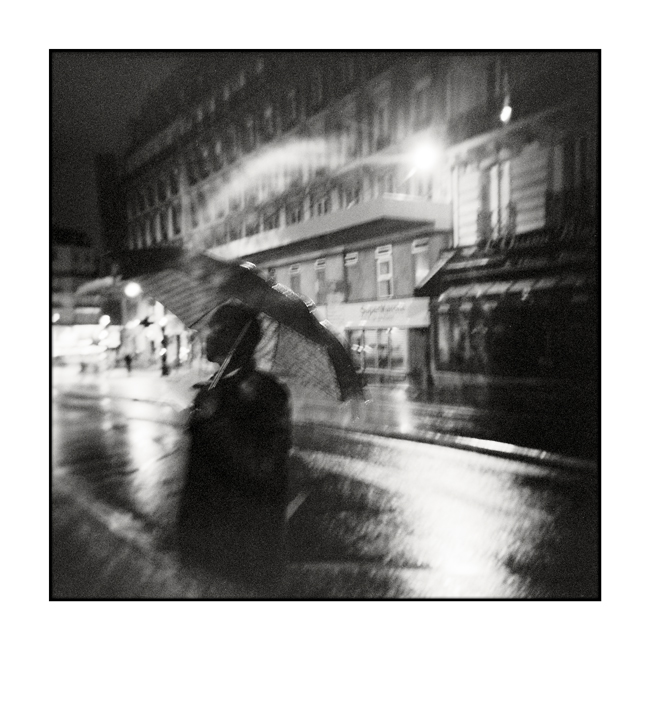 red fish
© Arnaud DE

(01-04-2008)

<

Paris

<

France

<

Europe

PHOTO DESCRIPTION

Taken in Paris.
400 trix

| | |
| --- | --- |
| APN | HOLGA - 120G |
| Registred camera | HOLGA 120G (Reflex camera) |
| EXIF information | f:1/4 - f/8 - 0 ISO (no flash) |
| Orignal filename | pa2.jpg |
comments
12/21/2008
yes, great shot, with better contrast than the last one.
12/20/2008
I absolutely love this photo Arnaud. great use of blur.

12/06/2008
Ben je suis venu, j'ai vu et je dis chapeau bas l'ami ;-) ces images floutées sont d'une grande beauté et très parlantes...très fortes aussi!
06/20/2008
Bonjour Arnaud, Magnifique tout simplement. Une ambiance si palpable, vent, pluie, lumières, le boulevard et cet homme...qu'attend-t-il ? que pense-t-il ? exquisitement cinématographique, une réalité toute simple, un homme sous la pluie la nuit et en même temps toute la part laissée au rêve...on dirait un fantôme, celui de nos incertitudes.
06/20/2008
salut Arnaud,

What a beautiful dreamy photo ... A real polaroid-look, the high grain, the b&w ... all is so well composed and handled. A photo that could come straight from a movie ! Artistic job Arnaud, bravo !!
greetings, inn
06/20/2008
I love the contrast as well in this one Arnaud. The composition is spot on, and that arc of light certainly adds some appeal to the photo.
06/20/2008
Très fort, une image puissante et tellement bien dans ce projet.
••fly••

06/20/2008
Bonjour fixed...
Elle donne envie cette photo, envie de faire la même chose... envie de découvrir ce type d'atmosphere sur sa pellicule ou son ordi. Vraiment je la trouve superbe et presque parfaite... il ne manque plus, à mon sens, qu'une personne qui passerait derrière en marchant ou courant... mais bon...
Ceci étant félicitations pour celle-ci et pour ta patte si particulière...
A plus...
06/20/2008
Its a thought provoking image and series, mystery abounds and I love the high contrast tri-x look. seems to me you captured a vapor trail of a ghost above the umbrella.

06/20/2008
Wow! Nono, what a marvelous photograph!! "Like a dream"...I cannot agree more...perhaps more like Kafka's dream! Stunning sensation and poetry. Awesome! A favorite

06/20/2008
Salut Nono,
The shimmering pavement, the sense of mystery is so powerful--the shot couldn't be this enigmatic and sensuous without that wondrous little circular flare (?) created by the Holga, rhyming with the oval shape of the man's umbrella. A beautiful dream...
sasa
06/20/2008
Une image de toute beaute. Une image troublante, deroutante: on voit bien qu'il s'agot de Paris, et pourtant... ca pourrait etre ailleurs, bien loin, dans les colonies de nos reves enfouis...
Superbe"

06/20/2008
Brilliant image, which actually i can't fully appreciate...I'm on another computer far from my home on vacation; this computer is entirely too dark and no adjustments will fix the problem.
Anyhow, the blurred tones of night and the high contrast reflect those glaring qualities that harsh unnatural light imposes on rain slicked streets. A surreal dream.
06/20/2008
Quite strange and mysterious, Arnaud. The person seems to be floating along without legs. Surreal. (Jar?) Very nice image. I like the title of the project. Best, -h.