/photo view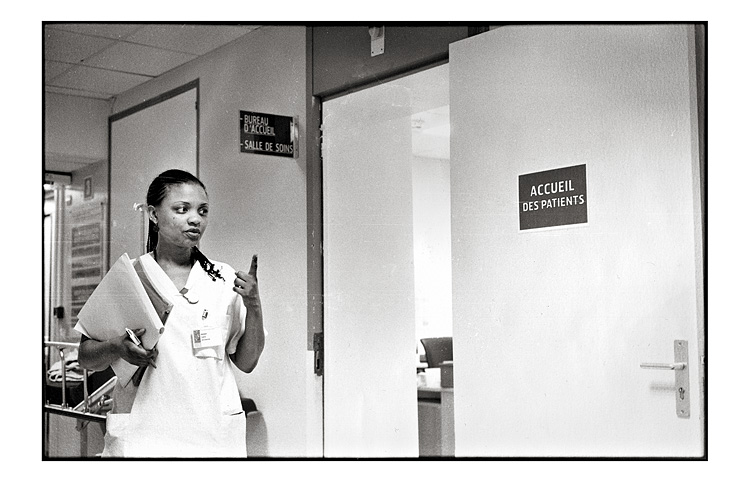 Pampered in the 19th
© Luko G-R

(12-06-2008)

<

Paris

<

France

<

Europe

PHOTO DESCRIPTION

Well, you might assess that this image is not that much representative of the 19th district of Paris and I wouldn't blame you for that. A few weeks ago, I would have not even thought a fraction of a second I would shoot this image, which is at the time I am typing, the latest of my production.

You possibly have noticed I'm randomly pushing this Paris by numbers project from of an insider view, closer to say a parisian diary than a practical Paris guidebook for a visitor. Therefore, this image fully complies with the ups and downs of my own life, having more lows these recent days than my share.

I have to come out now with my own story : It happens I had a vascular brain injury a few weeks ago, probably due to a bad hydratation and too much stress. Eventually for a few days I started to have a double vision while a sadistic neurosurgeon (the kind of maniac who displays a human skull collection in his office and plays with a brainlike mouse pad) threatened me to drill a hole in my head. That's about the ultimate nightmare for a sissy like me who faints at the sight of blood and couldn't even write the word brains without a cold sweat.
For a second advice, I found shelter at the Rotschild Eye and Neuro Hospital Foundation in the 19th district for a week of medical exams, including MRI, brain scanner and consultations with a soft speaking surgeon. I had to stay a few nights for an arteriography, which consists in threading some cable dripping a iodae solution into your artery from your inside leg and pushing it up until the wire reaches your brain... Yeeeooooouuuuchhh!!...I still remember the vertigo when it touches...
Hence, I found myself two days ago naked lying on a mat with the cute anesthesist assistant pampering my "private parts" as I still was under the effect of morphine. I remember she was talking about the beaches of Rio de Janeiro and the wilderness of Fernando de Noronha. but even for that I wouldn't recommand an arteriography for a leisure.

You see, I am really a chicken when it comes to medical problems and was getting so anxious days and hours before going to the operation block that I thought I would take my Leica with me to help me think about something else... I started taking a few shots at the entrance but at the time they came with a rolling bed to carry me, I completely chickened out and left my camera on the side of the bed.. I thought I couldn't click before I would faint. Big mistake, I should have taken it to the end. It was worth.

I'd like to pay hommage in this whole page, more than this weak image, to the nurses who cared like they were sisters, to the soft speaking surgeon, to the joyful anesthesist, to the brasilian assistant with soothing hands, to all those people I met at the hospital all of them had a word for me noticing I was fighting with my panick attack. I couldn't imagine such dedicated people.

Some of you may have seen Michael Moore's Sicko documentary, probably exagerated on some aspects, although this latest personal mishap made me consider the value of an effective health system, where in my case no efforts were spared, everything was done very swiftly and seamlessly... also at NO cost for me.

--------------------------------
All is well now, the exams have concluded that I have no sword of Damocles hanging over my head, that I should take my work more lightly, that I should hydrate seriously when I'm doing sports, that I shouldn't care much about all sorts of jerks hanging out in the real life or the clowns I come across in the virtual worlds. The worst news is that I'm stranded for at least two/three months : plane is forbidden until the blood clots inside my brain are totally gone. I have to replan my holidays then and consider taking the rail.



| | |
| --- | --- |
| APN | LEICA - M6 |
| Registred camera | LEICA M6 with LEICA Summicron M 50mm f/2 (Reflex camera) |
| EXIF information | f:2.8 - 1/30 - 400 ISO (no flash) |
| Orignal filename | pampered in the 19th.jpg |
comments
08/31/2008
Sooo, I hope every things are fine now ! Sorry but I've a smile to imagine you taking a photograph in the bed ... a least not so funny and not the best of
Paris by number
, but a nice booknote photograph.
nono
06/30/2008
My God, Luko, have just come about reading this with chills. How are you??? Have never heard of dehydration causing such a tremendous brain distress or clots. I know that it's also super-important to keep your homocysteine level fine, which can be done by simple Vitamin B intake which also soothes the nerves as you surely know. Take care... am dreadfully sorry to read all this, bless your fate that you didn't end up in our healthcare system, for one, who knows in how many months you'd have an mri...i dread becoming sick in Canada. M Moore, being so antiamerican, obviously tried to extol the Canadian system by alluding to only 20 minute-emergency waits...

Great you took Leica for a hospital ride... and even managed to get this decent shot out of it. This lady must have been the tender Brasilian nurse... every cloud has a silver lining :)
Keep well Luko.
sasa
06/30/2008
Jesus...let me say this, I'm glad you're alright. Seems frightening....you should take it easy and quit messing with those clowns, they'll only give you a clot. the lightness here is fine, and I can definately see our difference in density...where I would have printed this a half step darker, you've kept the bright quality of a hospital hallway.
I do have one question, what was she going to do with that finger...
06/25/2008
Tu as ton Lecia greffé à ta main ou quoi pour prendre une photo dans de telle condition ?
Je regardais récemment Grey's anatomye et Dr. House, j'ai de suite penser à toi. Et bin, c'est pas gentil ce qu'il t'arrive ... J'espère que tu as bien récupéré de l'opération.

06/17/2008
Dur dur Luko et vilaine histoire. j'espère que tout va renter dans l'ordre.
Je ne suis pas sur si comme toi j'aurais eu le courage de faire une photo.
moi je suis question hopital UNE MEGA CHOCHOTTE ;o)
ça piqueeee !!!! aoww ça fait maaaall ;o) heuuu ça va faire mal ??
quoi des gouttes dans les yeuxxx !!!
bref la panoplie du brave quoi
••fly••

06/16/2008
Et bien merde, pas une histoire sympa qui t'arrive, en espérant que tu ailles mieux...

06/16/2008
Dear Luko,

Glouppps, You might think you are a sissy, but i don't believe real sissies are thinking: 'oke you know what? if the neurosurgeon is gonna drill some holes in my forehead, i'm gonna bring my camera to see if I can get some priceless moments out of it'. That my friend, is for a leica lover like me, rather heroic than sissy-like... That you then forget it by you bedside is ofcourse unforgiveable and it's gonna cost you one apple from the virtual fruitbasket that's comming your way (aunt Gal is knitting a goatwool camerabag aswell).... But in all seriousness I'm more then happy that you seem to be oke...

on the shot I have some ideas:
1. she is gossiping with a fellow nurse about the private parts she just pampered (hence, the finger)...
2. she telling you, no mister photographer, go back to bed close your eyes and rest for a while...
3. she is amazed and says: ' you want to fly to where!?!'

take it easy,
A virtual clown
06/15/2008
"and consider taking the rail"... Ma foi, voilà peut-être le moment de faire un chouette projet au fil d'un train...
Marrante la note, je regrette par contre de ne pas voir de pied en cap cette infirmière... Je crois d'ailleurs avoir du mal avec les clichés qui amputent au tronc les protagonistes... Une photo d'AnimeshRay qu'il a postée ces derniers temps me pose le même problème.
A plus.
06/15/2008
Dear Luko,
I am glad it turned out less threatening than it could have been. Frightening, to say the least. But your effort in making the most of your ordeal, through your 'trusty leica' is heroic, though leaving it by the bedside before being drilled through the skull is understable! Christ!

But all dark clouds have shining rims. I look forward to some striking photos from your jaunts in Paris, to those places where you could take a leisurely stroll, sip an espresso (when permitted by your doctors) or a cogniac (even if not permitted) and per chance to align your double vision through the split image your trusty rangefinder to bring us your hard earned moments of relief. Most important: we want you to take it easy, man!

This photo: stark, threatening (I was wondering what had happened before I read the note), but somewhat reassuring also (even though no stethoscope was draped over her, just the white apron was sufficient I guess).

[I think I am going to forward this link to "redstate.com" (after I surreptitiously become a member)]

06/15/2008
Wow. Luko. Amazing story. This is taking photography to the most personal level possible, and yet, at the same time, deeply into the realm of social commentary. So, bravo for that. And, I would add, it also points to the photographic act as one of solace and therapy. A tribute to your own dedication to the discipline. That's why we practice so hard. So it's there for us when we need it.
Anyway, most of all, I'm sure everyone on this site will follow me in saying it's good to hear that you are going to be okay. All the best for a speedy recovery. And, yes, thank goodness for your great and sensible healthcare system. Take it from an American who has had extensive dealings with our non-system, you and your compatriots are very fortunate.
Finally, I will say, again, as someone who has had extensive dealings with hospitals and medical care, this is a great tribute to the unsung heroes. The nurses, especially. I have known some truly amazing ones. Models for us all.

Best, -Hugh
06/15/2008
"Acceuil des patients", huh...? I love this series, man, it has a serpentine feel to it, it meanders and even changes or mutates in mid course, but that's cool. This is again where the note is key and what a note it is! First you look at the somewhat washed out pic (somewhat... at first glance) and then you read the really engrossing note, then you look up at the pic again and it all fits - it's not about the 19eme, rather it's about your 19eme experience, now, and that's all we need to know.
And I'm so glad the eye thing is better and it was all a question of hydration and, uh... stress, after all.
Good on ya.