/photo view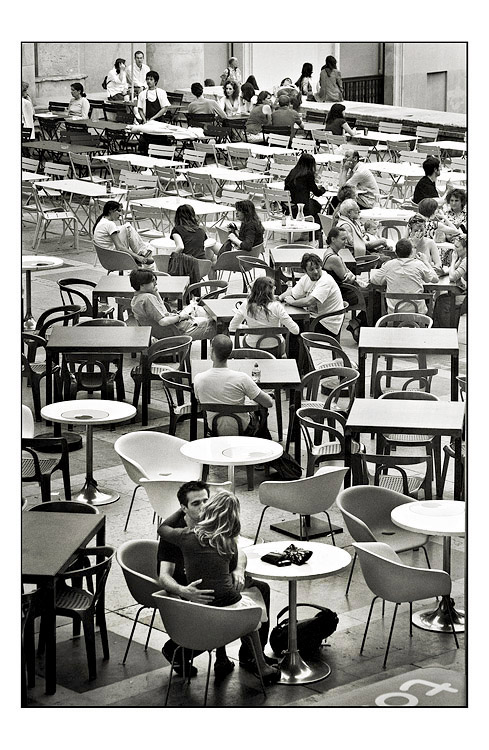 Losing breath in the 16th
© Luko G-R

(09-07-2006)

<

Paris

<

France

<

Europe

PHOTO DESCRIPTION

There are at least two sides of the 16th district, one populated with old ladies with a purple hair rinse, the other one boasts open air restaurant terraces, museums and world famous tennis events. I'll stick to the second one.

How would I also miss that old cliché about love and Paris. Therefore let's be oblivious to the world on the terrace of Palais de Tokyo.

I remember I took this shot two hours before the french football team sank against Italy in the world cup final as Zidane also lost his breath/mind/temper. Football is here again, the Italian team too.
| | |
| --- | --- |
| APN | Canon Canon EOS 5D |
| Registred camera | CANON Canon EOS 5D with CANON EF 24-105mm f/4L IS USM (Reflex camera) |
| EXIF information | f:5,6 - 1/1250 - 800 ISO (no flash) |
| Orignal filename | losing breath 8th.jpg |
comments
11/16/2008
tu sais bien que je suis un peu long à la détente, ou tout court d'ailleurs :). Très jolie photo Luko, on se sent emporté par ces 2 amants se suçant la poire, et on se sent aspiré avec ce graphisme complexe mais qui sonne si bien. Ding, ding.
nono
T'es plutôt à Tombouctou ou Honolulu ? :)

06/25/2008
Marrant comment ce couple surgit du brouhaha et le bordel ambiant. Je suis sur que c'est à cause de ces rondeurs qui les entourent .... Smack & Smash it ! Bravo le choix de la mise au point qui nous permet d'avoir l'ensemble nette ...Smart !

06/09/2008
Tu aurais pu tout de même attendre qu'il ne reste sur la photo que 16 personnes... On est pointilleux ou on ne l'est pas...(:
En tout cas j'aime ici le foisonnement de détails et découvre que cet endroit n'est pas qu'un repaire de skateurs. En même temps je n'ai jamais pris la peine de monter sur la deuxième esplanade.
Sur-ce...

06/09/2008
Ciao Luko,
yep a postcard again, very nice messy background and the kissing couple perfectly isolated in the front. you are right to stick to this one, purple curls don't look so good in black and white ;o) this does...

As for the soccer, leave the Italian team for the Dutch this evening, they won't stand a change. I bet the score is already 3-0 before those spaghetti eaters are aware that the match already started. It is gonna be quiet in Milano ;o)

Jorrit
06/09/2008
Sympa celle ci, et un bon clin d'oeil à Doisneau. Fait gafe qu'on ne te demande pas de l'argent si cette photo devient connue...
Bien cherché cette compo, avec les deux amoureux comme absents du rest de la scene, dans son petit monde,...ce n'est pas ça l'amour ?

Hasta la vista,

Javier
06/09/2008
Apart from the two kissers, the others look like they're in a world of boredom (or is that relaxation?). Nice mixture of chairs and people here, almost like some kinda museum installation. Good luck with the football, you're gonna need it. Your group looks fiendishly difficult.
06/09/2008
Its really a very good one. Apprantly it looks a very simple shot but the whole thing looks superb and There is something in it for which I have to look at it for a considerable amount of time. The perspective is brilliant as well as the angle of view.
The fkissing couple gives the X factor in this shot.
Nice .
partha

06/09/2008
Yes, "A bout de souffle" remade. "Breathless in the 20th", nicely seen, Luko. It's also a nice "clin d'oeil" at Doisneau and al the kissy cliches about Paris...
Delightful.

06/09/2008
I'd say he's tackling her fairly effectively. This game is perhaps superior to football in that both sides get to score simultaneously. Of course, as we well know, later come the penalties.

Well . . . the good thing about clichés is that they can be endlessly reinterpreted. Very engaging sight here. Worthy of a post card, Luko. Vive la sélection nationale!

Best, -h.
06/09/2008
Le baiser du palais de Tokyo version Luko
une image très fraiche et très plaisante.
Je me demandais si cela n'aurait oas été interressant de couper de mur du fond
pour n'avoir ques des tables et chaises en background ?
••fly••