/photo view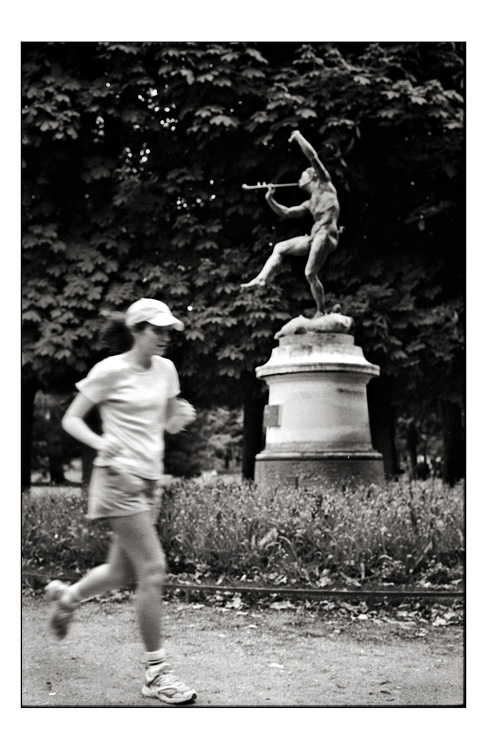 Running the race in the 6th
© Luko G-R

(06-06-2008)

<

Paris

<

France

<

Europe

PHOTO DESCRIPTION

6th is the most beautiful district in Paris. You don't believe me? I'm born there...It's a fine place to start for a life even though I haven't lived there for long.

The heart of the 6th beats in Luxemburg park, where genuine little parisians see their first trees, stumble on their first steps, enjoy their first puppet show or experience their first poneyride.

Some years after, now at Sorbonne university, the students review their courses in the spring sun and the afterclass lovers meet for a kiss in this same Luxemburg park.

A few years will pass and the now settled wealthy yuppies would jog around the Luxemburg on saturday mornings.

Forty years of work will allow the parisian retirees to attend the sunday afternoon concerts in the park while the week days are occupied feeding the birds, playing chess, having hot chocolate at Dalloyau's or simply sittting on a chair remembering the younger Luxemburg days.
| | |
| --- | --- |
| APN | LEICA - M6 |
| Registred camera | LEICA M6 with LEICA Summicron M 50mm f/2 (Reflex camera) |
| EXIF information | f:8 - 1/30 - 400 ISO (no flash) |
| Orignal filename | running luxembourg.jpg |
comments
06/17/2008
non, ce n'est pas le 6e le plus beau... allez, je choisis... euh, je ne sais pas, mais pas celui là !
J'ai habité vraiment pas loin...
J'aime bien cette compo, avec ces deux mouvements bien différents.
Bonne journée
marie

06/08/2008
It is fascinating to find your insight on Paris on these pages. This one is a striking image, a superb juxtaposition and an attractive composition. I wait for more.

06/08/2008
Je n'accroche pas trop celle-ci... D'abord pour son manque de point d'accroche net, également pour le cadrage à la vertical qui ne lui convient guère me semble t'il... J'aurai préféré voir une caricature de yuppie pliée en deux, un point de côté lancinant et la lippe pendante...
06/07/2008
Ciao Luko,

A very useful picture for the project, in the end I think. I like what you are doing with this project sofar, you are showing and telling something particular of each district, and again we get the overall feel of this district...
I'm glad that you still remember when you saw your first tree aswell :o)
Jorrit
06/07/2008
I think the comunity is far too severe with this pic, Luko. Okay, it may not be the best image in this highly original project but here's the thing: in its own way and according to the stated terms of the series, it is an intelligent contribution. My grandmother (Masson) lived at 30, Rue de Fleurus, just opposite where Hertrude Stein used to live. I visited her and stayed there many times. She would take me to play with the little wooden sailboats in the Luxembourg and yeah, it is a special part of Paris, not qite the Latin Quarter but more "normal" and Parisian with the Odeon theatre, St Sulpice, the Rue de Rennes, etc. I like the subtle way the figure "6" emerges from your compo.
We have to see these pics as part of a whole, otherwise it's just a crapshoot.
My 02 cents...;o)