/photo view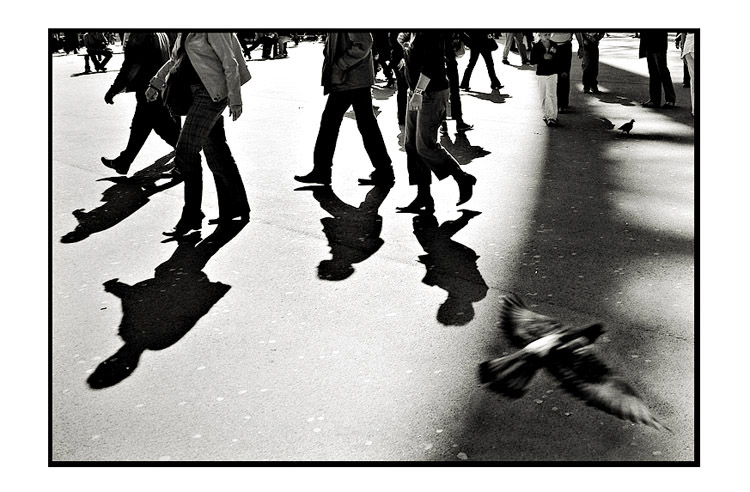 Flying low in the 7th sky
© Luko G-R

(07-10-2007)

<

Paris

<

France

<

Europe

PHOTO DESCRIPTION

The Eiffel Tower shadow dominates the wealthy 7th district.
What can be more parisian than that? Tourists or pigeons maybe...
| | |
| --- | --- |
| APN | Canon Canon EOS 5D |
| Registred camera | CANON Canon EOS 5D with CANON EF 24-105mm f/4L IS USM (Reflex camera) |
| EXIF information | f:6,3 - 1/400 - 160 ISO (no flash) |
| Orignal filename | flying low.jpg |
comments
08/31/2008
ciao Luko, i am not so active at the moment unfortunately so i am sure i have lost a lot of beautiful images....like this for example..
i love the game of shadows, the movement of the pigeon and your crop
beautiful work
ciao!
valeria

08/31/2008
Like you seen I love this photograph. Strange athmosphere whith this attractive framing. The "line time" :) is perfect. thanks
nono

06/17/2008
hello Luko,

C'est bien joué, avec les ombres. Et j'aime bien cet oiseau flou sur la droite de l'image. très bien réalisé !
Bonne journée
Marie

06/05/2008
A great shot with everything works well here. The birds at the bottom right looks magical . The shadows look so brilliant. Excellent in all respect.
Partha

06/03/2008
I think I just broke my little toe, but whatever, I love this photograph. So keen and well caught!! Lower right frame to the pigeon's wings laid flat out.. The shadow draws my eye up to those two walking. 1. a human 2. another pigeon. The 7th district loves their pigeons. Take it easy. Brian
06/03/2008
Il nous manque tout de même l'ombre de la tour pour prouver que cette photo a bien été prise dans le 7ème...
J'aime les pigeons, et j'aime ces clichés qui les figent en plein envol... J'aime ici le dessiné des ombres et j'apprécie moins les décapitations à répétitions....
A plus...
Désolé à y regarder de plus près, c'est vrai qu'il s'agit bien là de la tour, je crois y reconnaitre son ombrage...

06/03/2008
Je ris encore de ce que Simon a ecrit...;o)
Luko, brillante celle-ci - la meileure de la serie jusqu'ici. Ces ombres a la "Reservoir DOgs" et puis la presence mythique de cet oiseia.
Magnifique. Un FAV...

06/02/2008
Luko quand tu vas arriver au 20 ème pousse jusqu' à la maison ,o)
Je pensais en voyant cette photo en vignette, v'la le 4 ème.
c'est toujours photogénieque les pigeons en photo. j'aime cette photo,
cette série est vraiment plaisante et je trouve bien que tu la poste image par image.
••fly••

PS j'ai vue que prochainement les naked bikers vont remettre ça , je crois samedi prochain.


06/02/2008
Geez. This is one of those "How did he manage that?" That bird is right in that shadow margine. The little boy (or girl) is right on the line between light and shadow. (I wish I could see his/her whole head, but I'm sure not going to complain about anything here. Delightful piece of street (literally). Best, -Hugh