/photo view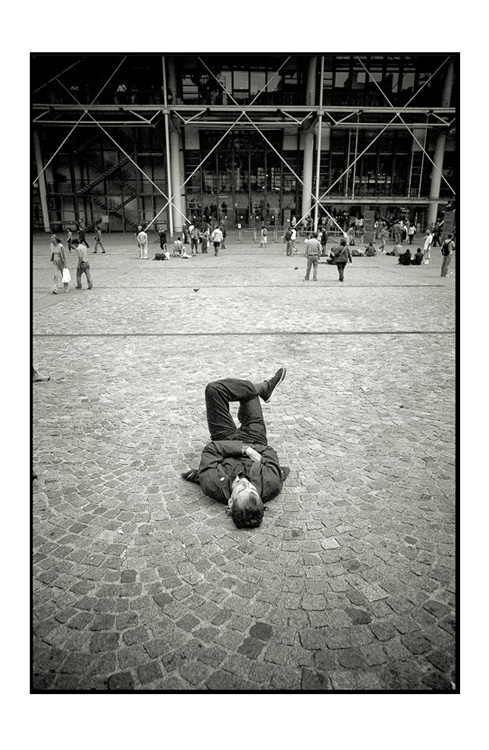 Sitting on top of the 4th
© Luko G-R

(24-06-2007)

<

Paris

<

France

<

Europe

PHOTO DESCRIPTION

4th district, the cultural one : mayor's tower of power, modern art and photo museums, oldest lutecian streets, medieval Notre-Dame, trendy Bastille and place des Vosges, the Marais gay quarter located next to the jewish area. Pick your choice, everyone in Paris loves the 4th for different reasons.

Most of the people take the Beaubourg modern art museum escalators to get a view of the roofs of Paris from upstairs but some prefer to sit below the crowd and stare at parisian skies.

On a nod to that famous quote of Greg Corso, maybe that "lying in the middle of the pavement doing nothing is power".

-------------------------------
3rd district will come later on, have I said somewhere I would upload my serie in any sequential order?


| | |
| --- | --- |
| APN | CANON - Canon EOS 5D |
| Registred camera | CANON Canon EOS 5D with CANON EF 24-105mm f/4L IS USM (Reflex camera) |
| EXIF information | f:4 - 1/2500 - 250 ISO (no flash) |
| Orignal filename | sitting on top of the world.jpg |
comments
06/08/2008
If there needs to be an image to illustrate the idea that geometry makes a photograph, this will be it. Compositionally a perfect photograph, it also manages to capture a moment that tells a story with precision. Bravo!

06/03/2008
Ciao Luko,

Ahh back to the Paris thing, nice to see, the first one was getting a bit lonely ;o)... The freedom you have created for yourself with this project is as much for the content as well as the order ofcourse. And after seeing the first 3 you already took advantage of both...

Funny you caught this man in this position as it is a position you can not hold on for too long i think, that leg is sleepy pretty soon. But like this it makes the pose even more iconic then the legs together on the ground. great capture...

Jorrit
06/02/2008
Encore une fois j'aime bien mais je trouve qu'il y manque quelque chose, peut-être un bout de ciel que cet homme allongé regarde, ce qui à mon sens élargirait le sujet... Ici cette photo donne l'impression que le sujet n'est autre que cet individu alors que ce devrait-être Paris...
En tout cas je trouve que c'est plutôt une bonne chose que tu continues ce thème qui me semble plein de promesses...
Sur-ce...



06/01/2008
Devant Beaubourg...? Drolement bien concue cette image, Luko. Jaime le fait qu'au dela du "jeu", chaque photo tient tres bien toute seule, et apres tout ca aussi c'est une preuve...

06/01/2008
I remember this place very well. However, we visited it on a December night; it was freezing cold, and believe it or not, there was a dude lying there. He had a guitar next to him though.
Wonderful shot, both thematically and graphically. The positiong of the horizontal lines are almost too good to be true. Also the nerd inside me likes how the rectilinear orthogonal grid in the back acts as a counterpoint to the curvilinear orthonormal grid on the pavement. Even "Monsieur Fermat" here seemed to be acknowledging the beauty of the co-ordinate system around him with his orthogonally folded legs.

cheers
P

06/01/2008
Bon, le 4ème est de telle manufacture que force est de constater que je ne me soucie guère de l'absence du 3ème. Tu me pardonneras l'incongruité, mais je trouve que Paris est une ville tellement photogénique qu'il faudrait un aveugle pour ne pas en revenir avec quelques belles photos dans son film. Remarque, cela signifie aussi que le nombre de clichés risque d'être multiplié à l'infini, peu importe. Le vignetage est réglé aux petits oignons.

06/01/2008
In order or not, for me its no matter, but you promised us 20 pics ,o)
i like this black and white, the pattern of the pavement. the vigneting
help to cloe the picture and concentrate on this guy. classic and pleasant picture.
ça c'est Paris !!!
••fly••