/photo view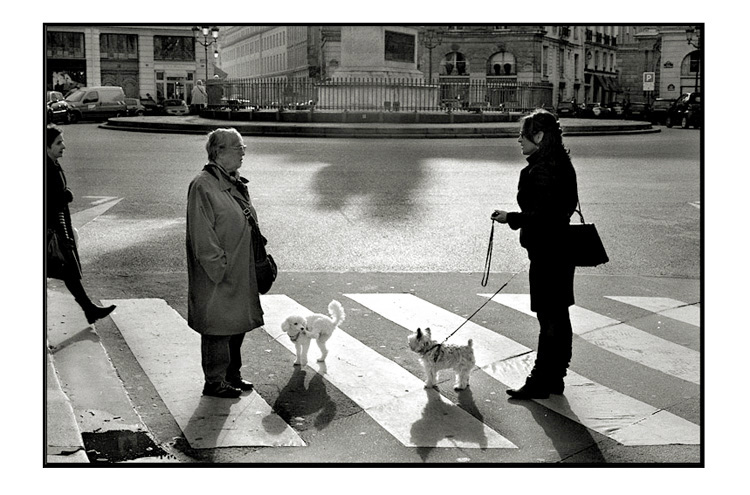 Socializing in the 2nd
© Luko G-R

(05-02-2008)

<

Paris

<

France

<

Europe

PHOTO DESCRIPTION

On Belibaste's request, I will then continue this "Paris by numbers" project.

2nd district, located in the soft underbelly of Paris is not quite the most engaging district in town, especially on a weekend, when the frenzy around the stock market is waiting for the monday opening. One building block out of two in the world famous Sentier used to host a fashion store, a workshop in the back and the legal employment matters outsourced on Uranus... once the north african jews playground, the south asian newcomers are now giving them a tough competition as they don't care working on saturdays...

Due to the estate price raising in Paris, many clothing workshops have packed their sewing machines to more suburbian locations. The flats and offices around have been sold to more moneymaking service and IT companies. Only the rising or trendy fashion brands like Diesel, Paul & Joe or Ikks have kept their flagship store in this expensive area.

As a result, the people you would expect to meet on a saturday are the portuguese or polish origin janitors who take care of the offices on week days or some fashionista lacking anything better to do than spending 300€ on a trendy denim.

This clash of civilization have a common point : 2nd district might be with the retired people 16th district the area with the most dogs per inhabitant.
| | |
| --- | --- |
| APN | LEICA - M6 |
| Registred camera | LEICA M6 with LEICA Summicron M 50mm f/2 (Reflex camera) |
| EXIF information | f:11 - 1/250 - 400 ISO (no flash) |
| Orignal filename | socializing.jpg |
comments
06/19/2008
Ciao Luko,

For a while now this photo is in my favourite box and yet I didn't write a comment to it, so here we go. Not only did I add it for the beautiful light and black and white tones, but I like this kind of photography a lot. It is a kind of photography where nothing happens and at the same time a lot is happening if I make any sense. This kind of photography is getting a bit scarce lately, it almost looks like we are to busy with the compositions that we forget about the message we want to transfer. I was thinking about making a project for some time now and call it little photography, moments like this, just 'click' a moment you see everyday without really noticing it, no dynamic angles, no open diaphragms, just straight forward little shots. But the truth is, it's damn difficult so it's probably a loooong term project, but that's oke…

Jorrit
06/08/2008
Another beaufully symmetric photograph with lots of stuff going on--dogs communicating, women communicating, shadow of a monument in morning light..excellent ambience.

06/02/2008
Very nice, Luko. Perfectly caught 'conversation' between the dogs as well as their owners. I think it would be even stronger without the women walking into the frame (your 'rule of threes'?) but I'm sure I would have failed miserably in the same spot with my G2. Best wishes Stephen
06/02/2008
Je ne la trouve pas parfaitement nette mais j'aime bien...
Une petite scène de la vie parisienne immortalisée sans que les differents protagonistes ne s'en doutent... Au contraire de flydragon j'accroche un peu moins sur la passante volontaire qui fait irruption sur la gauche, j'aurai aimé la voir en entière...

06/01/2008
Si les chiens parlaient
Peut être que le caniche dirait au york " ça tu sais faire ? "
ou bien " tu veux un sniff ? " va savoir George !!
Bon on parlait ce matin des gens bord cadre coupés , ici j'aime cette femme
qui entre dans le champ et dans l'histoire façon Abbey road.
••fly••

06/01/2008
Salut Luko
Cool
Paris by numbers
... j'aime bcp cette image pour le moment et cette compo (sournoise) de haut niveau. ... joli puzzle et témoignage. Luko enfermé dehors à Paris, on aimerait en voir plus souvent, he, he ...
nono
06/01/2008
Hey Luko, in these days of recycling, you're ahead of the curve: I mean, you can use this excellent pic again when yu get around to the 5eme arrondissement ;o)))
Seriously though this is a lovely street shot - the comic symmetry and the Erwitt "wit" so to speak.
Brilliant note by the way - could stand on its own, very sharp and informative.