/photo view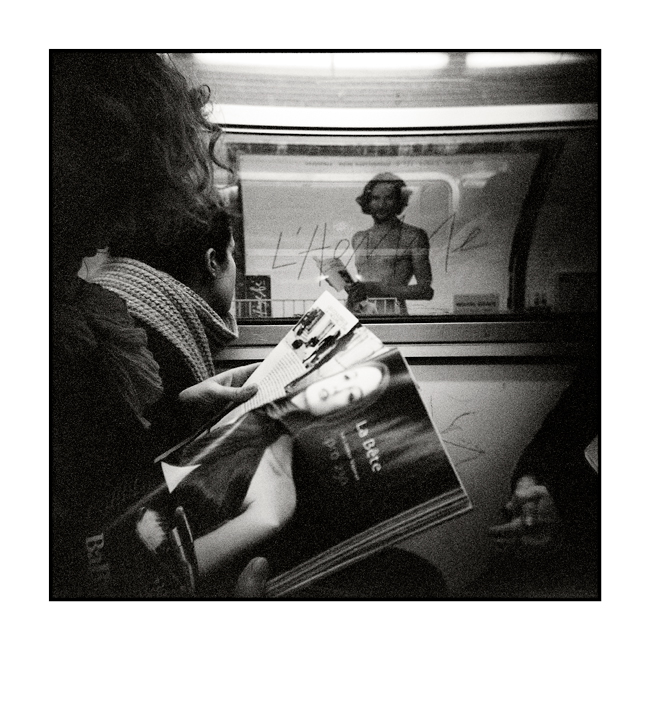 blind
© Arnaud DE

(04-08-2008)

<

Paris

<

France

<

Europe

PHOTO DESCRIPTION

Funny to see people who don't watch the others. The meeting's websites have good days ahead of them, ...
... the guys whith a long hair and girls whith a short one ? but where goes the world ? ;D
| | |
| --- | --- |
| APN | HOLGA - 120G |
| Registred camera | HOLGA 120G (Reflex camera) |
| EXIF information | f:8 - 1/100 - 0 ISO (no flash) |
| Orignal filename | ud-5.jpg |
comments
06/10/2008
Salut Arnaud,
Am HAUNTED by your grainy beautiful Holga images... they have a feel that stops my breath, literally... love the humour of it, la bete is certainly better than l'homme here ;-), the fact that the only people whose faces we can see are those on paper and the wall--the real humans turn away or are out of reach, sight... superb, really wonderful work, a fav.
ciao
sasa
06/03/2008
"La Bête!" "L'Homme." Oh, I couldn't have resisted calling this "L'Homme et La Bête" Great subway shooting with your Holga. Keeping the old world alive indeed . . . ! Best, -Hugh
05/26/2008
Hello
Moi je prends le vélib'! Le métro ça pue et ça ne se voit pas sur tes photos. ;o)
Mais je reconnais bien l'ambiance un peu claustrophobe de notre métro parisien avec la pub omniprésente présentant des images d'hommes et de femmes 3oo % photoshopés.


05/24/2008
This is a striking image! A true decisive moment--compositionally complex yet with a clean and simple message about the humorous moment. Bravo! A favorite.

05/23/2008
C'est bien vrai ca mais ou va le monde?
A quand le retour de l'époque où les femmes portaient de belles robes évasées en taffetas roses et les hommes s'habillaient en queue de pie, l'époque ou les hommes faisaient la cour aux femmes de manière gracieuse et élégante en les appelant ma douce ma tendre.
Haaa he oui c'est une autre époque.
Comme dirait l'autre "on ne les reconnait plus de nos jours" :)

Et pis c'est vrai on ne se parle plus comme dirait mon oncle à chaque fois que je pars à l'étranger " est ce qu'au moins tu connais ton voisin". Et il a tellement raison.
Il y a plein d'informations dans cette image que je trouve très équilibrée. Ca a du charme ce vieil Olga je trouve.





05/22/2008
Yup il y a un truc dans cette photo, je dirais perso une bonne base.
mais je suis pas 100% convaincu. Je ne sais pas, peu être le format carré ici
ça manque un peu d'air peu être. Mais un smile tout de même pour l'homme et la bête.
••fly••

05/22/2008
Bonjour voisin, superbe ca, j'y trouve une espece de perfection a travers le cadre. D'une grande sophistication et inteligence...