/photo view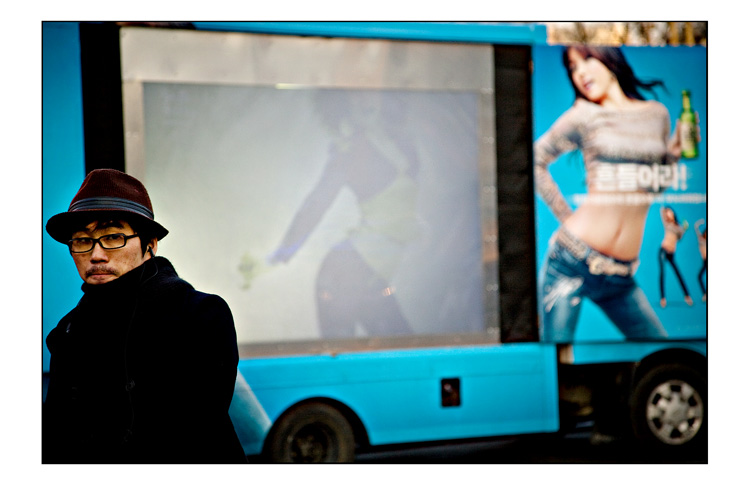 Wanna dance?
© Luko G-R

(23-02-2008)

<

Soul-t'ukpyolsi

<

Korea, South

<

Asia

PHOTO DESCRIPTION

That's what the beondegi woman was looking at, actually.
She posisbly might have been the only one interested in the advertizing.
| | |
| --- | --- |
| APN | Canon Canon EOS 5D |
| Registred camera | CANON Canon EOS 5D with CANON EF 24-105mm f/4L IS USM (Reflex camera) |
| EXIF information | f:4 - 1/500 - 400 ISO (no flash) |
| Orignal filename | insadong.jpg |
comments
05/11/2008
interested or otherwise....this advertising hoarding with that girl on it...and the man with the blue framing backdrop nicely brings out the black coloured dress of the man and himself thereby...and he's got a very interesting expression on his face...and these lines
("we live in a different world, used to being observed by hidden lenses. we are better at posing, even when surprised. we know how to assume a good blank look and hold it")
from
this
article on Robert Frank
..somehow...i like this one much more than the cold version with a different composition ...
talking about designing aspect on photoshop of advertising and foreshortening, i happenned to be checking this post on a blog yesterday:
fanta:you really don't wanta
05/11/2008
Une autre belle image dan ce nouveau projet.
ce bleu est vraiment beau, bon timing.
••fly••