/photo view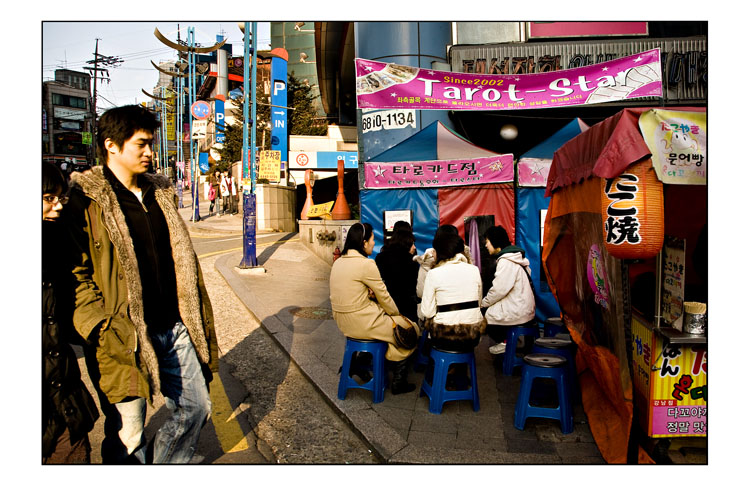 Tarots
© Luko G-R

(23-02-2008)

<

Soul-t'ukpyolsi

<

Korea, South

<

Asia

PHOTO DESCRIPTION

"I don't believe in magic
I don't believe in I-ching
I don't believe in bible
I don't believe in tarot
I don't believe in Hitler
I don't believe in Jesus..."
(John Lennon)

...Believe in what you can.

| | |
| --- | --- |
| APN | Canon Canon EOS 5D |
| Registred camera | CANON Canon EOS 5D with CANON EF 24-105mm f/4L IS USM (Reflex camera) |
| EXIF information | f:7,1 - 1/400 - 400 ISO (no flash) |
| Orignal filename | tarot.jpg |
comments
05/13/2008
Hey no one commnted yet...that's an "invitation" to me ;o)
Like the sweep of this one and the way you open the space while circumscribing it on the left wit the arriving couple. Young people in Love, eh... thrilled by the validations they may find in tarot - a slightly edgy thrill. This shot in contrasty B/W would be sinister, interesting what punchy colors will do. A complex, well structured shot, for my money.