/photo view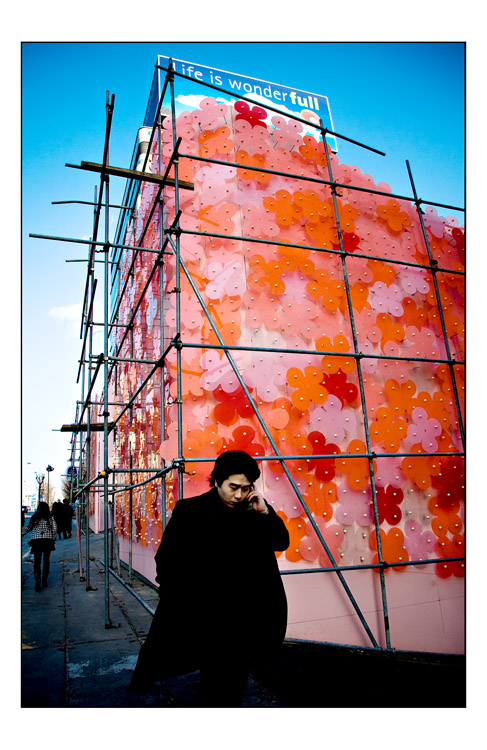 Life is...
© Luko G-R

(23-02-2008)

<

Soul-t'ukpyolsi

<

Korea, South

<

Asia

PHOTO DESCRIPTION

...full of flowers.
... wonderful.
... like a phone call.
| | |
| --- | --- |
| APN | Canon Canon EOS 5D |
| Registred camera | CANON Canon EOS 5D with CANON EF 24-105mm f/4L IS USM (Reflex camera) |
| EXIF information | f:7,1 - 1/640 - 400 ISO (no flash) |
| Orignal filename | life is.jpg |
comments
05/20/2008
Amazing colors combo you managed to capture and composr with. I really like the way the rounded & red decoration is chopped by the horizontal & verical lines here.
I'm not sure it's my screen, but I wish I could some more details of this "phoning" man.

05/14/2008
Colorfeoul
mdr, ... content de voir de nouvelles images de toi ... difficile d`apprecier ces couleurs de cet ecran d`emprunt ... en tout cas une belle poesie emane de cette image ... je reviendrai sur ces jolies images de ma grotte a couleurs :D
05/12/2008
Definitely a nice series, though some shots re-appearing from the other...but I do like this processing....very different looking city.

05/11/2008
great eye to have spotted that hoarding with a gift of colours....did you kiss the ground after you got the shot?

05/11/2008
hah quand tu dis que tu fais dans la couleur, ben tu ne ments pas !!
très fort ce cliché Luko. peu etre que si tu étais un chouille plus grand
on aurai pu lire le LIFE heheheh, remaque avec moi on aurai certainement lu FULL .
j'aime bien ce que dis Francis " urban vampire"
une bellle image Luko et un superbe contrate.
••fly••

05/11/2008
Salut Luko:
A very strong one in the mix - nice to see you go for the vertical here - Mr Cell here like an urban vampire sweeping all before him and the color explosion above, quite superb, from RED-PINK to brilliant BLUE. I would say - high;y intelligent use of color, where color becomes the main dish and has its own semiotics.
Bravo,
-F

ps I'm sorting through several hundred Hanoi shots, having a very tough time finding my stride in spite of some really decent shots ;o) (especially at night with the rangefinder)