/photo view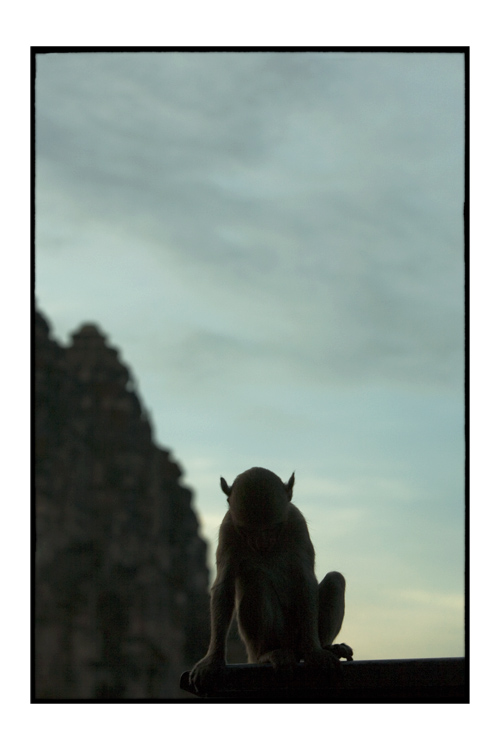 the Siam gargoyle
© Simon Kolton

(19-08-2007)

<

lopburi

<

Thailand

<

Asia

PHOTO DESCRIPTION

A monkey near a temple, this monkey liked to pose as a gargoyle.

| | |
| --- | --- |
| APN | CANON - Canon EOS 5D |
| Registred camera | CANON Canon EOS 5D with CANON EF 24-105mm f/4L IS USM (Reflex camera) |
| Orignal filename | 6639.jpg |
comments
06/29/2008
I'm with Eric on this one. It's clever, but it's not up with the others. It's not quite "there" imho. I'm not sure what would make it work better. Maybe a little more profile light and definition. But a nice idea and certainly works with the project. -h.

02/20/2008
This photo is the one that I like the least in the series.. Not quite on par with the rest in my opinion... Your fault, you get us accustomed to photos that are so good, that just an average photo is getting deceiving after all...
02/04/2008
I am still battling over this one... I don't know if I like it or not. Two things I like: 1. the blue electric background; 2. the gargoyle effect and the solemn posture of the monkey. A thing I don't like: the overlapping between the monkey and the mountain behind it. Don't know why, but that stacking breaks the reflective mood of the shot. The dof used may "save" the photo, but I still have my doubts.

11/20/2007
Haha, Simon, could be a great book cover for some vampire movie set in Thailand :)))
with this gargoyle of a monkey, spiky ears, in front of the blurred temple walls... a funny shot, leaves plenty of negative space that creates a fine balance.
sasa
11/19/2007
Bonjour Simon, je ne sais pas s'il s'agit d'un bug mais c'est ta seconde image que je n'arrive pas à voir. Elle ne veut pas s'ouvrir, comme la précédente! va savoir pourqoi, je n'ai pas de problèmes avec les autres
11/19/2007
Bonjour Khun Fly! L'effet "gargouille" est tres reussi. Tu donne a M. Singe un certaine noblesse, un aspect triste aussi. Question technique c'est tres bien agence, bien sur: j'aime comment tu as su plante un pique sur cette bete meme qu'elle soit deja en "silhouette" - il n'y a qu'a compare avec le fond pour comprendre...