/photo view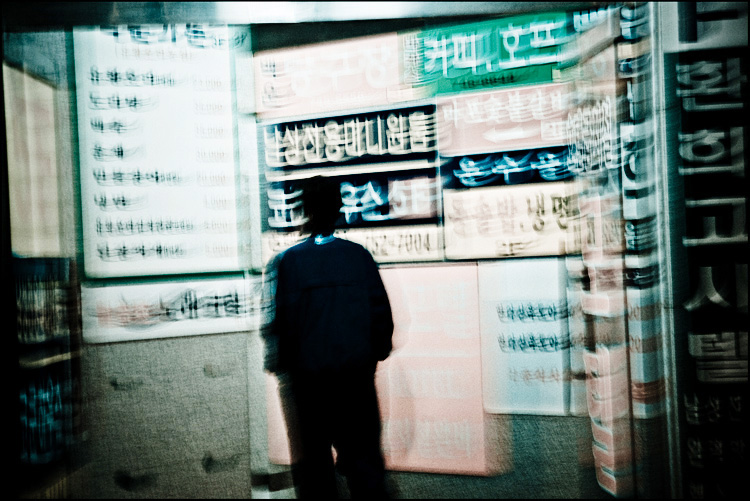 Lost in translation (again)
© Luko G-R

(07-03-2008)

<

Soul-t'ukpyolsi

<

Korea, South

<

Asia

PHOTO DESCRIPTION

Korean cities seem to come alive in the evening, though not alike Bangkok where a big part of the bustle caters to longnosed tourists... I've been wondering about the multitude of holes in the walls you can find in Seoul or suburban cities like Incheon, and felt dizzy with the overflow of information and the imaginary possibilities... possibly places where only solitary men walk in... probably bars... and more...

On the tamer side, it's easy to get lost in the maze of neonlights and find yourself sitting in a restaurant where nothing on the menu looks familiar or even readable.
Fortunately the word "bulgogi" you've read minutes earlier on your LP guidebook is the dish that comes to your lips...and enters through the waitress ears... and this only word is a good bet.

(Rafal if you come commenting can you shed a light on these kind of holes in the wall : "massage" parlors? DVD micro cinemas?)
| | |
| --- | --- |
| APN | CANON - Canon EOS 5D |
| Registred camera | CANON Canon EOS 5D with CANON EF 24-105mm f/4L IS USM (Reflex camera) |
| EXIF information | f:5,6 - 1/6 - 800 ISO (no flash) |
| Orignal filename | uglyseoul-12.jpg |
comments
04/12/2008
To shed light: well, lets say all nightlife here revoves around sex. So, the mini DVD places are places you go to get it on....there are plenty of massage places, but the more interesting ones are the barber shops where its not about getting a haircut but getting "serviced".


I really like this one Luko. Very nice use of the blur to create a feeling that we are also drunk.

04/12/2008
The sensation of feeling lost and isolated in a big city, one I can certainly relate to. The colours and blur here is so harsh to the point of being downright scary, it's delightful!

I wasn't certain at first about the colour treatment in this series-- it seemed imposed by you rather than anything inherently sinister in th scenes demanding such a finish. It has grown on me, however, very much so. There's such a strong sense of you grappling with this environment that the viewpoints are very much your thoughts imposed on your surroundings as you try to comprehend the darker aspects of this city. I'd be curious to see what you do with a happier take on Seoul that was mentioned elsewhere in this series.
04/12/2008
Very cool cinematic feel to this (again Bladerunner more than Lost in... though I can see where you are coming from with this...) This is some kind of cross processing, no? The fascinating thing is how touches of real color keeps surfacing underneath, like ... pinks. Also this has the feel of an interrupted video frame,
Really like it ;o)

04/12/2008
First was the view from the Hotel,...then on the road and streets and in the underground,...and now we walk by this "ugly" city by night. Were he will finish? It seems that alcool levels rises in the blood of our character :-), he seems to be lost,...yes. Lost in translation
Hasta la vista,
Javier

04/12/2008
seem that you guy Luko in evening start to get drunk ;o)
i know why lost in translation. Did you get nervous in front the massage parlors ?
That made me wonder what Korean drink ? same Japan Sake
i do like this shot from a guy lost .. yes in translation ;o)
••fly••