/photo view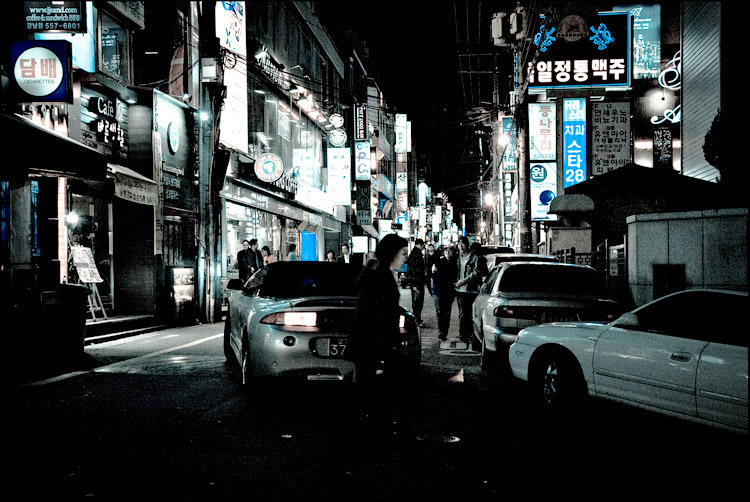 Electruglicity
© Luko G-R

(23-02-2008)

<

Soul-t'ukpyolsi

<

Korea, South

<

Asia

PHOTO DESCRIPTION

Night time, the darkness veils the dullness of the city and brings colors and life out in the streets.
Ugly Seoul spreads his wings and becomes an electric swan : even in the smallest downtown alleys, the street shines with neons and hundreds of restaurant, waterholes or I-dunno-which-kind-of-entertainment proposals to the office working korean.
| | |
| --- | --- |
| APN | Canon Canon EOS 5D |
| Registred camera | CANON Canon EOS 5D with CANON EF 24-105mm f/4L IS USM (Reflex camera) |
| EXIF information | f:5 - 1/80 - 1000 ISO (no flash) |
| Orignal filename | uglyseoul-9.jpg |
comments
04/12/2008
What an incredible treatment, the lights and color transformed into this blue, with the doll in foreground, onlookers in the back...a remarkable moment.

04/11/2008
woww look at that, if there in the beginning was a nice facade or a nice building they surely screwed it up big time with this explosion of neonlights, what a horrible street man!! I think this is probably one of the most busy compos in the project sofar, so a perfect fit I would say.
nice grainy, gritty, cold tones again.... back to blue

Jorrit
04/10/2008
Hola! I found this picture interesting about the atmosphere that it gives. The night, the lights, the people walking by. It's a simply composition, but really well framed. The only thing that I don't like much, is the car passing by. I would prefer to see the street with people and the woman walking by, in the middle of the picture, as a silhuette cropt by the hight lights of the street. Just another point of view.
Any way, a good picture for this very interesting projet.
Hasta la vista,

Javier
04/10/2008
It is equally true of Tokyo, except that much of night time Tokyo can be very retro and charming (perhaps some of Seoul too...) This is "Shinjuku", Bladerunner territory. The photo has that "air" and detachment and perhaps lack of central focus I associate now with rangefinders. And of course the stars here are the neon lights themselves. Your pronounced treatment emphasizes exactlly what you want to single out, leaving the rest in darkness...

04/10/2008
'lo Luko
... t'as inspiré Séoul, cette "ville laide" se transforme tout à coup en esthétisme concentré. La répétition des lumières est magnifique. Les noirs bien bloqués, contribuent à cet esthétisme et ambiance lourde et pas commune. Une hérésie ... Love wild Luko, take a seat for a ride
nono