/photo view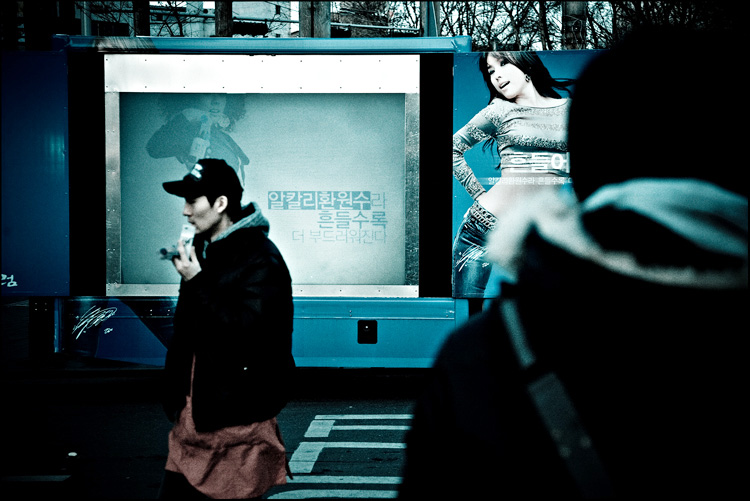 Blue screen
© Luko G-R

(23-02-2008)

<

Soul-t'ukpyolsi

<

Korea, South

<

Asia

PHOTO DESCRIPTION

South Korea, motherland of LG, Samsung and flat screens.
Insadong again, some big screen on a trailer, playing any kind of advertisment nobody's interested in.

Really, nobody gave a f*** about the whole thing, even though the ad girls were working hard at catching somebody's attention. Plain noise and visual pollution.

| | |
| --- | --- |
| APN | Canon Canon EOS 5D |
| Registred camera | CANON Canon EOS 5D with CANON EF 24-105mm f/4L IS USM (Reflex camera) |
| EXIF information | f:4 - 1/800 - 400 ISO (no flash) |
| Orignal filename | uglyseoul-5.jpg |
comments
04/09/2008
hello Luko
Impressive crossing game, the skirt 'crepe' :) is really strange. Toc, toc, toc Doctor, sorry but the screen is not blue but black ... he, he ...
Impressive moment and composition
nono

04/06/2008
Tight compostion, almost like packing in the last piece of cloth inside your luggage bag...I wouldn't have minded if the top portion of the frame was cropped with only the hording included and no trees..but your idea does work out through this photograph anyhow....

04/05/2008
Décidemment, ce projet me plait vraiment beaucoup.
Je suis étonné par la grande qualité de toutes tes images réalisées en si peu de temps...
Une compo magistrale, 3 éléments parfaitement placés.
Bon, il me semble que le gars devant toi, il mate quand même grave la fille.
Allez, encore une fav
04/05/2008
Like in many city and bangkok too, this is a big polution, and you right people not see oe not realy care about. I am so impress that in Bangkok we have a image polution and sound everywhere.
i like the multi layer composition here. Another great add to your project.
••fly••

04/05/2008
Ciao Luko,

visual pollution, nice term :o) something that has increased a lot the last few years. When you want to see a 1,5 minute movie from a news item on the internet you have to wait at least 29 seconds to see the new model of Renault, find out Philips is so flat you can use it as a kite, or that women have the best time of their lives with Always........... aaarggghhh I usualy close my eyes, put two fingers in my ears and sing at the top of my lungs NANANANANNA ofcourse ending up with missing half of the newsitem....

The shot is nice again, the touch of red perhaps draws a bit more attention to it than it deserves and I would have loved to see the bellybutton of the poster ;o) ( how about that for nitpicking?) very suiting photo for the project, it shows something any city can do without...
Jorrit


04/05/2008
Actually if we are playing the number game I see 4.....and you said something about 4 being death in Asia:)
But it is a good shot. I like the processing in your series, man does it ever make Seoul feel cold
04/05/2008
What the hell. How did you manage this? You must have some patience or something. As Francis has already reiterated, the number game is in full effect here. The front to back side to side diagonal glances of the four. Just look though, people are hungry for technology!
04/05/2008
Yes! You've got that magic "3" thing going, and a very clever version of it too... Positioning of each one of the elements is just so, realy good timing, the poster girl sandwiched between these dark, upreposessing, shadowy men. Great one! A FAV for me anyway.