/photo view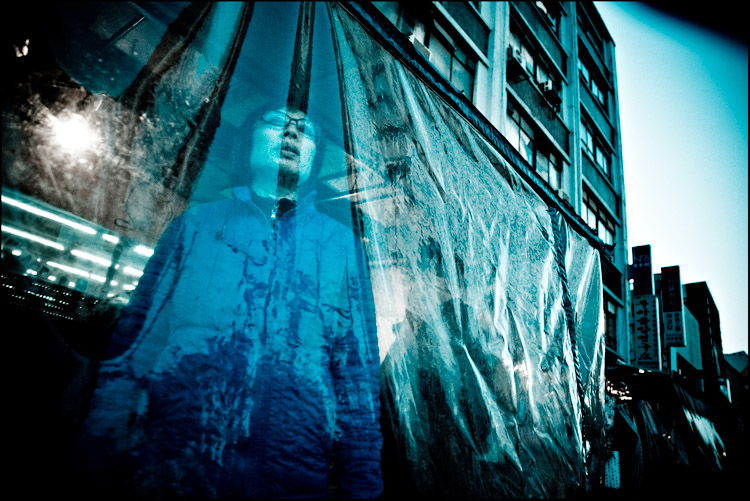 Stench
© Luko G-R

(23-02-2008)

<

Soul-t'ukpyolsi

<

Korea, South

<

Asia

PHOTO DESCRIPTION

Beondegi. The ugly smell.

I surfaced the subway nearby Insadong market, this is where about all the Seoul first timers go. Insadong which is about a main street populated with stalls, backside alleys, artshops and all in all, a nice little walk for a chilling winter afternoon...

The human being underuses his olfaction sense... but it is said that odor is the longest remembered of all senses, more than sight for instance. Hence I will associate Insadong with the stench pertaining from some stalls on the side of the street, which cater the Korean snack eater with steaming hot beondegi. The ammoniacal foul odor is striking ; probably it's the humidity and thickness of the smell contrasting with the razorblade freshness of the cold winter air that makes it worse to experience.

What is beondegi, would you ask? Steamed silk worm... Yummy.

| | |
| --- | --- |
| APN | Canon Canon EOS 5D |
| Registred camera | CANON Canon EOS 5D with CANON EF 24-105mm f/4L IS USM (Reflex camera) |
| EXIF information | f:4 - 1/400 - 400 ISO (no flash) |
| Orignal filename | uglyseoul-6.jpg |
comments
04/06/2008
it's like a freeze frame from the movie sixth sense...as already mentioned its very ghastly...err..ugly...aesthetically its the angle and the geometry that adds a visual punch..not to mention the processing you've rendered ..and your use of vignette's has been quite interesting...its like you've used one of those plastic cameras...

04/05/2008
Hi Luko...this woman is like a ghost in this town
i like a lo the strong contrast of this image
a great game of reflection
perfect with your series

04/05/2008
Hi Luko,
exepted the accidental heavy vigneting,everything work very well on this pic.
the tone of your serie and your low point of view suits perfectly to make this unreal mood.
impressive and good image.

Tom
04/04/2008
Ta série est fantastique, quelle ambiance ici.
J'adore cette apparition surnaturelle... pas grand chose d'autre à dire à part la "faviser".

04/04/2008
Amazing and strange cold feeling. She's like in a death plastic bag ... yep "Stench". Love the top vigneting which sign the strangeness and especialy the multiple dimensions in this picture. Incredible and so creative one. Confusing ... I think you sleep awake.
nono

04/04/2008
Et tu as pu aussi photographier des revenants !!
quel etrage et superbe image Luko. Bon ben comme je suis sur Mac
moi j'ai pas l'odeur, mais je te fais confiance hehe
vraiment une tres bonne image,
••fly••


04/04/2008
Pinkhassov rears his head here ;o) In a good way... Cool ghostly shot much in keeping with the rest of the series. I see an exploration of dreams, nightmare and jetlagged states in your photography ever since La reunion, ya know...?

04/04/2008
oh man, voici un superbe exemple de chef-d'oeuvre dans la style réflection, puissant... hop dans les favs... le coup de pare-soleil pas trop fan par-contre, mais bon elle me plaît vraiment beaucoup...

04/04/2008
It's perhaps very ugly, but apparently makes an amazing photo. ıt looks like a scene from those famous Korean horror movies. Very impressive!
Fusun
04/04/2008
What with your title, project name,the noten and of course the photo, the first thing that popped into my mind was of the movie Outbreak and all the people in quarentine; The plastic tent seems to be keeping the 'stench' and the diners from the rest of the world!
04/04/2008
Je ne sais vraiment pas et je n'arrive pas à savoir comme tu as "fabriqué" cette photo. Dans fabriqué, j'entend composé bien évidement. Le premier regard me fait imaginé que tu étais allongé par terre et tu as réussi à prendre du bas cette femme regardant une vitrine.
Bravo

--SW
04/04/2008
Insadong is actually a great place for checking out some good galleries. They have in particular a couple of interesting photo galleries. One which is focused on contemporary stuff and one that shows some really good b/w stuff from the past. So theres more to it than beondeggi:) Although i hate the stuff too, the taste isnt quite as bad as the smell would imply. did you try it? I do like the harshness of this one Luko, the processing is raor sharp in that you are really taking photos and making them feel ugly....and I like that, theres a really good rawness here, and Seoul is a raw city.