/photo view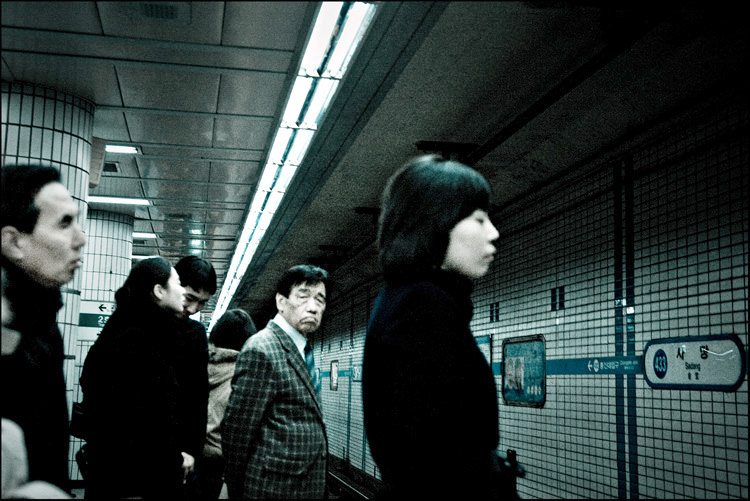 The wait
© Luko G-R

(23-02-2008)

<

Soul-t'ukpyolsi

<

Korea, South

<

Asia

PHOTO DESCRIPTION

Inside the guts of the "Ugly city", the gloomy lights, the wall colored clothes and the bland ghostly faces.
Seoul subway, line 2 the longest urban subway peripheric line in the world.

Actually Gangnam station looks more like a very cheap mall than a subway station, quite strange but very exact signposts : first time I see a post marked "ticket booths : 23 meters". probably exactness is a korean quality.
| | |
| --- | --- |
| APN | CANON - Canon EOS 5D |
| Registred camera | CANON Canon EOS 5D with CANON EF 24-105mm f/4L IS USM (Reflex camera) |
| EXIF information | f:4 - 1/80 - 1250 ISO (no flash) |
| Orignal filename | uglyseoul-4.jpg |
comments
04/04/2008
The second best in this project after the "stench". Again it reminds me of Korean horror films, especially due to the girl's blurry, grainy face and grave expression. Superb shot.
04/03/2008
Exactness is not a Korean quality, believe me, Luko.
Well, this sure is ugly, I mean what a face. I think this processing is very fitting, for me I think its the best processing in your series so far because it really enhances the feeling of ugliness more than previous shots. I really like how the girl came out, her face against the darkness.

P.S. this Sadang station:)

P.P.S. I think my photo today was also taken at this actual station, though my memory is a bit fuzzy on that...92% sure though

04/03/2008
You're certainly playing with your colours well to enforce the ugly feeling, and this guys face does you a few favours as well.

I don't see anything wrong with the ugly title either, I think your photos are doing your feelings some good justice.

04/03/2008
hi Luko
Another great addition to your project. As a continuation of what was started, but from another angle / level. Once again I like your interpretation signed by your proccessing (and especially on this one, the bulk grain). They wait, but there is no time ... the fifth dimension ... It is oppressive and cold (just my feeling). Thanks to the (collector) jacket echoing with the wall tiles. Congratulations ...
add about "cheap mall" : I think you have done a good shooping there, and offer great gifts to everyone you 'don't like' ;D. Do you have a gift for me ? :)
noin noin

04/03/2008
Ciao Luko,

Oke now we originated the dutch' to be far far family of the highland catle (same hairdue) now it is time to admit that you probably smell like them, considdering the faces of the ones in your close neighborhood :o) This shot has a high 'who farted?' feeling over it.
funny photo, excellent processing
Jorrit
04/03/2008
There is a weird sort of drama going on here...The closed eyes of the foreground woman have an important role to play; somewhat like someone in a dreamworld...oblivious to the surrounding commotion. There is the couple conversing behind...the dead face on the left and the obvious super droopy character here.
I think this shot is the first to justify the color scheme for me, it just works. The graniness is nice as well.
Another fine photo.
I'm still not on board with the title, I don't find this ugly...or, sarcastic enough to explain the "ugly" thing.
04/03/2008
Yeah you're sliding from ugly building to... the inhabitants, man ! Attention...;o) I love the Walther Mathhau character who made you and responds the best he can... Interesting to see you, ironaically as it were, revisiting Rafal's old hunting grounds... Not sure I want you to come to Tokyo now, buddy ;o)))

04/03/2008
Ugly city...? may be it can be spread to the inhabitants or it was just a bad day for this man ?
I like this picture, the cold colours, the unpersonnal place, and the faces unexpressed. An strange place...
Well done in composition with this man who gives the contrast; not in black, but who seems dress a cloth as the wall in front of him. Also I like how you have play with lights, with this soft overexposition of the face of this woman at right, that make us to focus on her and that gives a special feeling of someone who is still in bed or someone unexpressif, cold too.

Hasta la vista,
Javier
04/03/2008
Hooo i would love so much a shot from this man and this background
his Jacket and the wall, this is great, the Chameleon fashion.
Ugly but graphic.
For now i dont see this city that ugly, except those big building you showed us yesterday.

••fly••