/photo view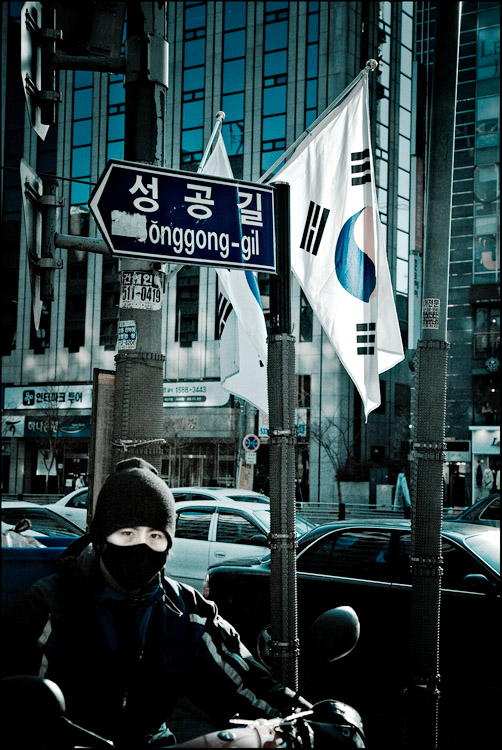 Daylight avenue
© Luko G-R

(23-02-2008)

<

Soul-t'ukpyolsi

<

Korea, South

<

Asia

PHOTO DESCRIPTION

Gangnam, apparently the upmarket shopping area in Seoul... during the daylight : high rise grey buildings, traffic jam, glass pane reflections and remarkably concealed life... the Korean flag was proudly glowing in the sun though.
| | |
| --- | --- |
| APN | CANON - Canon EOS 5D |
| Registred camera | CANON Canon EOS 5D with CANON EF 24-105mm f/4L IS USM (Reflex camera) |
| EXIF information | f:7,1 - 1/640 - 400 ISO (no flash) |
| Orignal filename | uglyseoul-3.jpg |
comments
03/31/2008
Tiens ce sera Français pour toi :) (tu risquerais de ne pas comprendre :) )
NijaTune
tu connais ?
'vachement' bien
à l'image de ton image :). Outre ce regard "intriguant" je trouve la rythyme de l'image géniale (bien que sournoise), agrémentée d'accroches avec ta vison perso ... huchhh, c'est froid ...
well done ;) Luko
nono
03/31/2008
Well, what exactly is ugly here? I'm not really feeling the title. It is premature for me to base an opinion on just two photos, but I already feel disconnected, like I'm not in on the joke at which everyone is laughing. I sort of expected a little more of the traditional ugly (some see it as rootsy flavor), underwear hanging on the front stoop...piles of trash, bland uniform precast concrete structures. To be honest, I think the color cast that you chose for your photos hides some of the more obvious ugliness that we see in cities; bland freakin' colors.
The photo is good...reall good. I like the looseness (best description for what I'm seeing) that is infused in the composition. The eyes are fantastic, love how they are outlined by the mask...I can't help but think Ninja.
I guess when it comes down to it, I just have to see more...I need to bide my time and see what comes.
03/31/2008
Hi Luko, a cinematic series! i agree with Jorrit here!
interesting feeling here, with the Korea flag in the light..
very good!

03/31/2008
Hi Luko, As ugly as you place Seoul I just don't see it.. I mean yes it might be an over industrialized city, but so what most major cities are. Figure Detroit, or Pittsburgh, heck even most surrounding cities of NYC in New Jersey are. Regardless to all of that, Gangnam and it's doubled reflections really create a nice atmosphere in between all that steel and concrete. Oh, I gotta mention that this ninja in the foreground looking dead into your 'eyes' is what really my eyes keeps my eyes from wandering. P.S. Love that blueish hue you created so far.. I'd love to know how it's done.
03/30/2008
Hello Luko,
Indeed it could be a scene of an action movie...but it is not only this...the colors and the light and the whole compo generally made this image very well seen!

Thomas

03/30/2008
Ciao Luko,

This could be a poster for an asian karate movie, with alot of whoaaaaa!!! chuiiiiiiiiiii!!! ghaaaa!!! dialogues inside ;o)
Thinking about the title; 'Traffic Dragon' or 'HWY Warrior' something like that... Nice toning, cheers...
Jorrit
03/30/2008
Hello Luko,
c'est une excellente photo urbaine selon moi.
J'aime beaucoup comme tu as réussis à isolé ce visage dans ce mic-mac :)
J'étais pas pleinement convaincu de la teinte bleue de la 1e photo (peut-être pour une question d'unité du projet), ici elle est parfaite.
Bon pour l'instant la ville n'a pas l'air vraiment moche mais j'attends la suite.
Une fav... a+

03/30/2008
Its a good shot. Im gonna see how this plays out. maybe its because Ive lived here for 5 years but to be honest Im not seeing anything ugly so far. And believe me there are places in Seoul that are truly ugly, but Gangnam? That may be because Im pretty much almost a native here and Im blind to it, and Im not looking at the city through the eyes of a Parisien BUT again, Im not really seeing much uglyness. The first photo was what you would see anywhere. It could be Manhattan with its bridges for example, it could be Montreal, it could be any city with a river and bridges built for railway crossings. I dont think its ugly. In this shot, well, it may not be the Latin Quarter but is it ugly? Perhaps its a matter of perspective, Ive never lived in Paris, most of my life Ive lived in larger NA cities and this photo doesnt show me anything I havent seen in Toronto or Chicago. I wouldnt call them ugly cities. So Im going to see how this project plays out. Still a good shot.

03/30/2008
Oui ca continue tres bien 'je n'entend plus la musique du depart...;o)) Super timing pour le regard du gars sur la moto, ton bonjour a Seoul", quoi... Remarque a ce niveau, ca pourrait etre Toyo dont la laideur est presque magnifique. heureusement il y a pas mal de charme aussi.
A suivre.

03/30/2008
Luko cette serie et ce projet démmare tres fort. je ne sais si tu vas poursuivre
cette etalonage couleur, mais c'est bien vue et tres bien fait.
J'ai l'impression de découvrir une version 2008 de ton travail.
a croire que la vilaine ville ta plutôt réussi.
j'aime beaucoup cette image aux couleurs métaliques.
••fly••