/photo view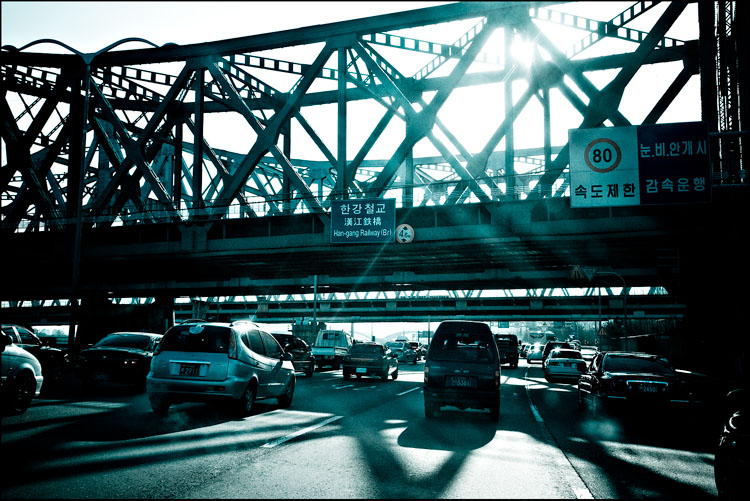 First feel
© Luko G-R

(23-02-2008)

<

Soul-t'ukpyolsi

<

Korea, South

<

Asia

PHOTO DESCRIPTION

What any foreigner would first see about Seoul, highways, roadways, industrial structures and metallic bridges.

I instantly remembered my highschool geo-economics classes. South Korea economic growth was relying upon heavy industries, steel, boat building : all these sorts of delicate, mildly polluting manufacturing process... Looked also like Seoul urban community was not saving costs on good solid steel either.
| | |
| --- | --- |
| APN | Canon Canon EOS 5D |
| Registred camera | CANON Canon EOS 5D with CANON EF 24-105mm f/4L IS USM (Reflex camera) |
| EXIF information | f:7,1 - 1/320 - 160 ISO (no flash) |
| Orignal filename | uglyseoul-1.jpg |
comments
03/31/2008
"The Ugly City" will not be happy with this title ;). The Ulgly city with its tentacles ... very well seen and introduced. A strong photo for me. Cheers
nono

03/31/2008
Hi Luko! happy to see you posting a new series!
the light is very good here! you have managet it very well...
the cold tone you have used is a news!!...but i think it works fine for this type of series...a cold colour ....reminds me to metallic structures....
nice one, i am waiting for the next images of the series

03/29/2008
Hello Luko,
Ca fait tres ... comment t'expliquer, tu sais quand un gars se reveille dans un autre endroit apres s'etre fait assomer, avec la lumiere tres dure qui l'eblouit ... il me semble qu'ici le gars a ete kidnappé ... enfin c'est le scenario que je m'invente ...
on ne peut pas mieux faire pour un "opening"
A+
Luan

03/29/2008
Like Francis said the flare make it and give this nice mood.
also i do love this blue green tone Luko.
this city look not that ugly hehe
welcome back with this project and wait to see more
••fly••

03/29/2008
The FLARE, man, the flare makes this picture, without a doubt. And that greenish look reminds me of the opening sequence from "Midnight Cowboy", ya know...? We hear Harry Nilson singing "Everybody's talkin at me, I can't hear a word they're sayin..." as John Voigt sits at the back of that Greyhound bus heading for the Big Apple and no end of pain. Well hat kind of thing.
I like what you're doing - this is a setup shot, setting up the scene. Okay... let's roll. And that flare...is really cool.