/photo view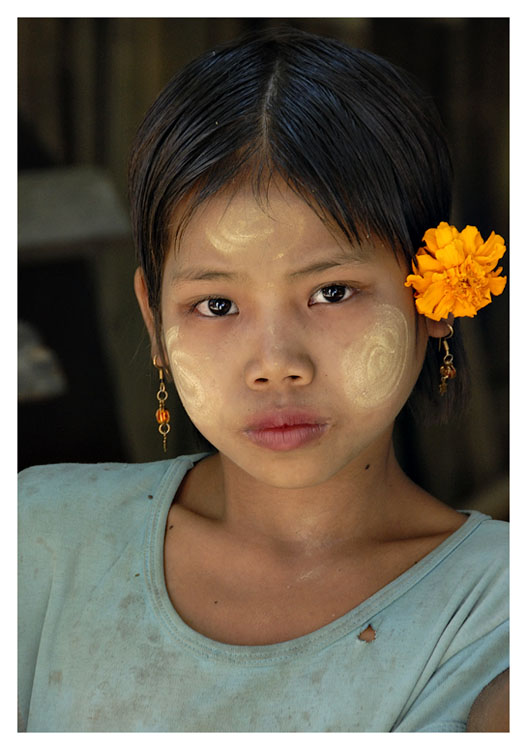 The Girl with the Amber Earing
© Elaine Springford

(06-01-2008)

<

Chin

<

Myanmar (ex-Burma)

<

Asia

PHOTO DESCRIPTION

The elder Chin women wear various patterns of tattoo on their faces and amber necklaces and earings. Thankfully this practise of tatooeing young girls to make than less attractive to prevent abduction from maruading tribes has stopped. Otherwise I am sure that this young girl would have had her pale skin tattoed by now. The amber is still worn and handed down through the family, the flower and thanakah is her own design. Maybe no more than 10 years old, maybe without a decent piece of clothign to her name, but so self-assured and so femine.
| | |
| --- | --- |
| APN | NIKON CORPORATION NIKON D200 |
| Registred camera | NIKON CORPORATION NIKON D200 (Reflex camera) |
| EXIF information | f:7,1 - 5/300 - 400 ISO (no flash) |
| Orignal filename | _dsc0010a.jpg |
comments
04/06/2008
Hello Elaine,
Great to meet you again in Photoholik !
As you know, like you, I am fond of portraits and this one is a beautiful example of a nice encounter we are looking for when travelling
Excellent choice of delicate tones
Vero
04/03/2008
Hola! A very nice portrait. Well placed, well composed, and with a really nice expression on her eyes. Nice soft colours and lights with a good out of focus depth.
Hasta la vista,
Javier
03/22/2008
Although I've seen similar portraits before from Burma before and living in Asia you see such resilience and pride often in children but she undoubtetly makes a strong impression. She radiates vitality and experience beyond her years from those eyes. This picture came to mind as a contrast from another young Burmese girl. http://www.pbase.com/clyne/image/54391265

03/20/2008
Hello Elaine,

Wonderful portrait, this girl seems a little sad. Good colors too.
Marie

03/19/2008
Beautiful, almost solemn portrait, Elaine, with true colors, nothing pushed or exaggerated anywhere. Eye are as sharp as can be and the cherry on the cake ofr me is the position of the yellow flower in the frame...

03/18/2008
You captured her proud beauty, the intense look in her eyes and the striking colour of the flower she is wearing in her hair contrasting with her torn, soiled T-shirt really well. I love this impressive portrait a lot.
Regards,
Fusun
03/18/2008
Hello Elaine,
Beautiful portait...I like the thoughtful look of the young,possing nicely to your camera.
Excellent and from the technical way...

Thomas
03/18/2008
beautifull portrait Elaine
soft light and color make this picture a pleasure
and the tanaka is alway so nice on face
thix for this portrait
••fly••